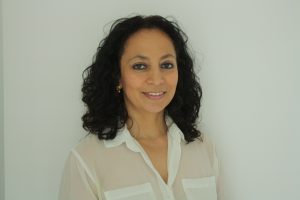 Sonia Andhi Bilkhu is the founder of Shakti Society and Shakti Awards. She is a social worker, mental health counsellor, researcher, community organizer, broadcaster and a politically engaged resident of the unceded territory of the Coast Salish peoples, now called Surrey. She holds a Bachelor's Degree in Public Administration, Bachelors and Masters Degrees in Social Work and Fellowships of Human SecurityX, Caux, Switzerland and of the Global Social Impact House, University of Pennsylvania.
Sonia's paid work is with Project Parent Fraser South, a program of Family Services of Greater Vancouver, private practice and social work with the Fraser Health Authority. In her volunteer roles, Sonia currently sits on the Finance Committee of the North American Association of Social Work Boards, Virginia; the Social Equity and Diversity Committee, City of Surrey; the BC College of Social Workers and is the Media Chair of NEVR – Network to Eliminate Violence in Relationships. She is also a delegate for her union to the New Westminster District Labour Council.
She is the winner of the Surrey Board of Trade Women in Business – Social Trailblazer Award, was the Finalist of Surrey Board of Trade Women in Business – Top Professional Category, is currently a finalist in the YWCA Women of Distinction Awards and has been a 3 Time Nominee of the BC Multiculturalism and Anti-Racism Award.