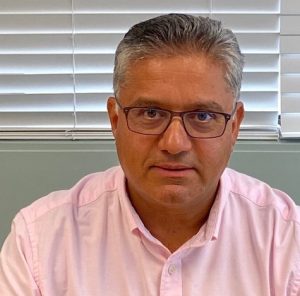 Born in India and raised in England from an early age, Amarjit has a Bachelors Degree in Social Work.
He emigrated to Canada in 1991 and worked for the Government of British Columbia in various positions from front line to senior leadership. In his most recent role, he was the Director of Practice for the Ministry of Children and Family Development (MCFD) until January of this year when he was appointed as the Vice President of Sophie's Place Child and Youth Advocacy Centre.
Throughout his career with the Provincial Government, he has played a key role in service transformation initiatives; the development and delivery of related training and leading a team of Consultants to support Ministry staff in responding to the most complex child protection cases. In recent years, he was instrumental in shaping the Ministry's approach to intimate partner violence (IPV) both at a local and provincial level. This included the establishment of the Surrey Domestic Violence Unit and the creation of the only child protection program in BC focused on engaging male perpetrators of IPV. He was also the Ministry lead in the creation of Sophie's Place which was one of the first Child and Youth Advocacy Centres established in BC and was short listed as a finalist for the Premier's Award in 2017.
Amarjit is a strong proponent of culturally responsive services and collaborative practice across sectors.