27

Setting up Structured Work Experiences
While initial contact with a potential work experience site may be via phone, email, etc., a follow-up information meeting should take place on-site. In addition to allowing the institution representative to provide in-depth information about the ASE ER program, purpose, goals, suitability for specific individual etc. It will allow an opportunity for a visual inspection of the premises and the surrounding area.
Some of the safety-related factors that can be assessed at this time are:
Suitability and safety of location. Is the site safely accessible? Does the neighbourhood and the surrounding area appear safe?
Does the site appear to be well-lit, well-ventilated, etc.?
Are there any obvious hazards? (Tripping, slipping, machinery, etc.)
Is the site clean and orderly?
Are safety signs, etc. clearly displayed?
Are materials stored/stacked safely?
Are exits clearly marked?
Sample Questions for employer hosts:
Who will be providing the safety orientation? (see checklist)
Who will be providing specific job training?
Who specifically, will be responsible for supervising and monitoring the student on a daily basis?
Will this person, or another supervisor, be available to the student at all times?
What are the hazards at this site?
Do you have any safety-related concerns about hosting a student on work experience?
Are there any high hazards or conditions requiring special safety training at this site? (Toxic chemicals, machinery, working at elevations or in confined spaces, etc.) – Even if they are not related to the student's duties?
Will any PPE be required?
Employers should also be made aware that in case of student injury, in addition to first aid/medical treatment, the institution will need to be informed.
Occupational Health and Safety Regulations Sections Related to Young and New Workers
3.22 Definitions
In sections 3.23 to 3.25:
"new worker" means any worker who is
(a) new to the workplace,
(b) returning to a workplace where the hazards in that workplace have changed during the worker's absence,
(c) affected by a change in the hazards of a workplace, or
(d) relocated to a new workplace if the hazards in that workplace are different from the hazards in the worker's previous workplace;
"young worker" means any worker who is under 25 years of age.
[Enacted by B.C. Reg. 105/2007, effective July 26, 2007.]
3.23 Young or new worker orientation and training
(1) An employer must ensure that before a young or new worker begins work in a workplace, the young or new worker is given health and safety orientation and training specific to that young or new worker's workplace.
(2) The following topics must be included in the young or new worker's orientation and training:
(a) the name and contact information for the young or new worker's supervisor;
(b) the employer's and young or new worker's rights and responsibilities under the Workers Compensation Act and this Regulation including the reporting of unsafe conditions and the right to refuse to perform unsafe work;
(c) workplace health and safety rules;
(d) hazards to which the young or new worker may be exposed, including risks from robbery, assault or confrontation;
(e) working alone or in isolation;
(f) violence in the workplace;
(g) personal protective equipment;
(h) location of first aid facilities and means of summoning first aid and reporting illnesses and injuries;
(i) emergency procedures;
(j) instruction and demonstration of the young or new worker's work task or work process;
(k) the employer's health and safety program, if required under section 3.1 of this Regulation;
(l) WHMIS information requirements set out in Part 5, as applicable to the young or new worker's workplace;
(m) contact information for the occupational health and safety committee or the worker health and safety representative, as applicable to the workplace.
[Enacted by B.C. Reg. 105/2007, effective July 26, 2007.]
3.24 Additional orientation and training
An employer must provide a young or new worker with additional orientation and training if
(a) workplace observation reveals that the young or new worker is not able to perform work tasks or work processes safely, or
(b) requested by the young or new worker.
[Enacted by B.C. Reg. 105/2007, effective July 26, 2007.]
3.25 Documentation
An employer must keep records of all orientation and training provided under sections 3.23 and 3.24.
[Enacted by B.C. Reg. 105/2007, effective July 26, 2007.]  [1]
Additional precautionary measures are also available, for example, personnel can perform basic company research to see if there is any record of penalties for previous safety violations or serious injuries. A web search can show if there are any remarks or unfavourable comments related to safety or working environment posted in online reviews. Other measures suggested by WorkSafeBC BC include checking whether the employer has a "Clearance letter" on file with WorkSafeBC BC.  A Clearance Letter "tells you whether the business, contractor, or subcontractor you plan to hire is registered with WorkSafeBCBC and paying its premiums as required." [2] There is also a web application on the WorkSafeBC website which will allow you to search for the clearance letter status of any business. A clearance letter is said to be a good general indication of the employer's safety practices. It is also possible to run a search on the WorkSafeBCBC web site to see what penalties have been assessed to a particular employer, or sector by using the search tool. (See Figure below – screenshot from WorkSafeBC BC – Search for Penalties).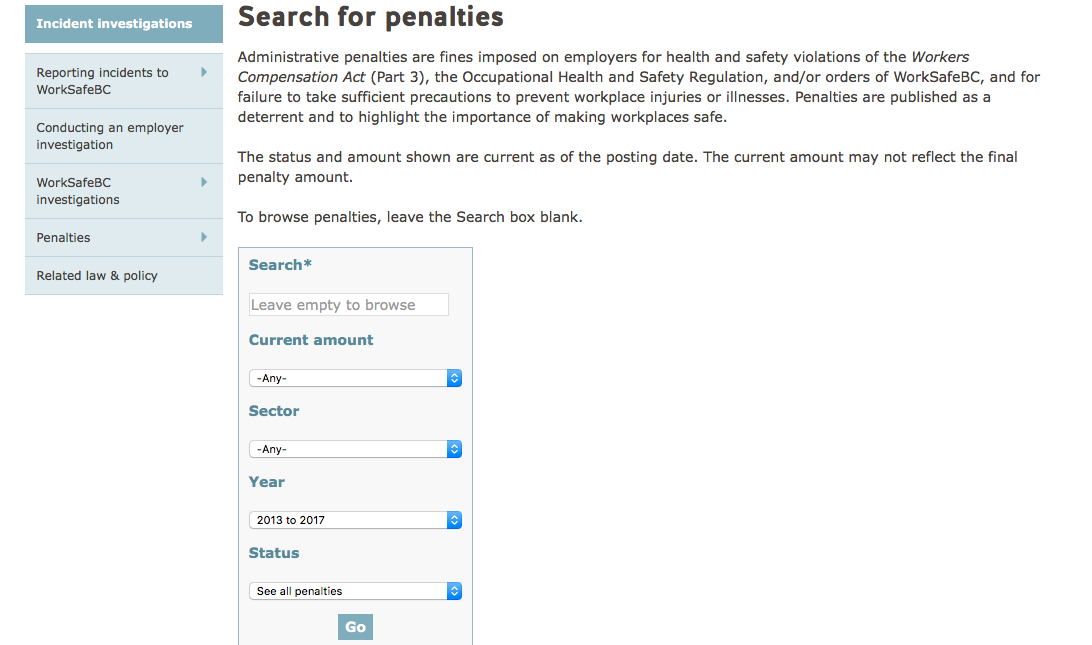 The institution will also need to determine if the student has met any additional health and safety requirements specific to a particular site, or type of work. For example, a childcare site may require a criminal record check, record of immunizations and TB status, etc. In some ASE ER-type programs, such as the Community Integration through Co-operative Education (CICE) streams in Ontario colleges, a criminal record check is required as part of the admission criteria. The CICE web overview page states, "In addition to academic program requirements, students must also be able to make their own transportation arrangements, and provide a Criminal Record Check and Health Assessment form to participate in a field placement. (Ontario Colleges, 2018)". Admission requirements vary in B.C.'s ASE ER programs and generally do not require criminal record checks in general, but rather on an individual basis depending on WEP placement choices.
---
Worksafe BC. (n.d.). Young and new workers. Retrieved January 18, 2018, from Worksafe BC: https://www.worksafebc.com/en/health-safety/education-training-certification/young-new-worker?origin=s&returnurl=https%3A%2F%2Fwww.worksafebc.com%2Fen%2Fsearch%23q%3Dnew%2520worker%26sort%3Drelevancy%26f%3Alanguage-facet%3D%5BEnglish%5D ↵
WorksafeBC. (n.d.). Clearance letter. Retrieved February 4, 2018, from Worksafe BC: https://www.worksafebc.com/en/resources/insurance/forms/clearance-letter?lang=en&origin=s&returnurl=https%3A%2F%2Fwww.worksafebc.com%2Fen%2Fsearch%23q%3Dclearance%2520letter%26sort%3Drelevancy%26f%3Alanguage-facet%3D%5BEnglish%5D ↵