7

Recommendation for the use of standardized language. The case for "Structured Work Experience Placement" for BC's ASE programs
There is both recent and clear research and information on language related to experiential learning terminology from Canadian and British Columbian perspectives. Three publications in particular provide specific recommendations and guidance around language. These publications are:
A Practical Guide for Work-integrated Learning: Effective Practices to Enhance the Educational Quality of Structured Work Experiences Offered through Colleges and Universities [1]
Experiential Education in B.C. Post-Secondary Institutions [2]
Comparative Matrix of Co-operative Education with Other Forms of Work-Integrated Education and Work-Integrated Learning [3]
The following descriptions are from "A Practical Guide for Work-integrated Learning", a publication of the Higher Education Quality Council of Ontario, in which three main types of work-integrated learning (WIL) are described in the post-secondary system there.
Systematic Training: Workplace as the central piece of learning (e.g., apprenticeships)
Structured Work Experience: Familiarization with the world of work within a post-secondary education programme (e.g., field experience, professional practice, co-op, internships)
Institutional Partnerships: Post-secondary education activities to achieve industry or community goals (e.g., service learning)[4]
Broader Definitions: 
Experiential Education (EE):   
Facilitated hands-on learning occurring in the curricular space
A formal program: intentionally linked to a academic and/or professional goals
Reflection is ongoing and meaningful
Directed and monitored by institution
Has experience at its core
Student Outcomes to develop knowledge, skills and attributes
Work-Integrated Education
Programs designed and monitored by institutions for students to learn from experiences in the workplace
Experiential Learning (EL):
Hands-on learning occurring in the co-curricular and extra–curricular space. Learning that can result from the engagement in an activity.
Work-Integrated Learning
Learning that can  result  from engagement  in a workplace environment.
Recently, the BCCAT published a report entitled "Experiential Education in BC's Post-Secondary Institutions: Challenges and Opportunities" which provided a "snapshot of the state of experiential education (EE) in BC higher education…" [6] This report acknowledged a "multiplicity of EE definitions" but proposed a set of "operational definitions for a majority of work-integrated types found currently in BC PSE…" [7] Additionally, the "Comparative Matrix of Co-operative Education with Other Forms of Work-Integrated Education and Work-Integrated Learning" (see appendix) was created. While language around work-integrated learning/education appears to be applied inconsistently in other parts of Canada and the world, the BCCAT matrix makes these distinctions clearer, and could serve as a foundational standard for ASE ER programs in this province. Based on the definition in the BCCAT documents and discussions with representatives in BC's ASE ER programs, the term "Work-Integrated Education" seems the best overarching term to match ASE ER programming while the terms "structured work experience" or "focused work experience" seem to be a good match for the work experience component of these programs as they are described by program representatives and written program descriptions.
In the BC context, extensive work was completed in compiling the matrix noted above to clarify terminology within the province. According to the definitions specified in the matrix, terms such as "internship" and "practicum" appear better aligned with specialized, or "sector specific" programs (as described/designated in the ASE Program Specific Transfer Guide). Given that specific ER outcomes are identified, and "intentionally embedded within the curriculum", it seems the term "work-integrated education" would apply to the majority of BC ASE ER experiences (based on program descriptions provided by faculty).  Further, based on the factors covered in this matrix, and adhering to BC PSE accepted terminology, the term "work experience" appears to be the closest descriptor for the field component in the majority of BC's ASE ER programs/courses. More specifically, the term "structured work experience" as defined in A Practical Guide for Work-Integrated Learning [8] seems to be the closest PSE descriptor for BC's ASE programs. Some ASE ER faculty noted a preference for use of terminology that made a clearer distinction between the type of experience students completed in high school as opposed to university. This sensitivity to terminology may be specific to ASE as efforts are made to reinforce the more formalized and specialized nature of ASE ER WEP's and the ongoing effort to emphasize the differences between work experience at the post-secondary level and those in high school. This issue did not appear to be a consideration outside the ASE field, as in the BCCAT matrix.
BC's ASE ER Work Experiences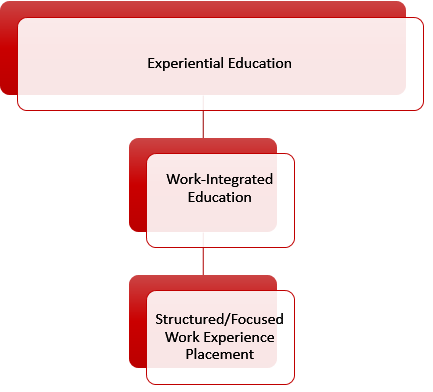 ---