1

Identify the Scope of Peer Tutoring in the Learning Centres
In this section you will get to know your fellow tutor trainees, your trainers, and identify the services that are offered by the Learning Centres at KPU and how Tutoring is a part of these services.
As a tutor you will become part of the team that provides assistance and support for learning at KPU.
Support Services at the Learning Centres
http://www.kpu.ca/learningcentres
If you want help understanding your assignments, some one-to-one or small group tutoring, or some advice on effective study skills and learning strategies, you can find the help you need at any of KPU's Learning Centres.
Our mission is to provide students with a range of skills and strategies that encourage learning excellence and promote holistic development. This is achieved through outstanding programming and exceptional services based on general, complementary, integrated, and embedded supports to foster student success, program completion and a desire for continuous lifelong learning.
For students, the four KPU Learning Centres are facilities where any KPU student can find free individualized learning assistance and assessments, help with study skills and learning strategies, and free one-to-one and small group tutoring in a range of writing, math, and content areas. Our online tutoring program offers academic writing help for students, from home, work, or school. Print and electronic resources are also available.
We have over 100 peer tutors and academic coaches who provide the peer support that students find empowering as they grapple with transitions to university life and challenges in coursework from time to time. The Learning Centres also attracts faculty tutors who work alongside staff in the Learning Centres to provide additional support for students and mentoring to our peer tutors and coaches.
Surrey – Library (Main Floor), A1650
Monday to Friday:
8:30 a.m. to 4:30 p.m.
604.599.2437
Richmond – Library, Room 1100
Monday to Friday:
8:30 a.m. to 4:30 p.m.
604.599.3454
Langley – Rm 2070, West Building
Monday to Friday:
8:30 a.m. to 4:30 p.m.
604.599-3444
Tech (Cloverdale) – Library, Rm 1317
Monday to Friday:
9:00 a.m. to 5:00 p.m.
604.598.6062
Tutoring
For KPU students, our tutoring services can help you develop skills that you can use in all of your courses.
When should you use the tutoring service?
Early in the semester
Early in an assignment
When you need assistance organizing an essay
When you are struggling with a math problem
When you would like to know more about effective study techniques
Learning Centre Assistance for Students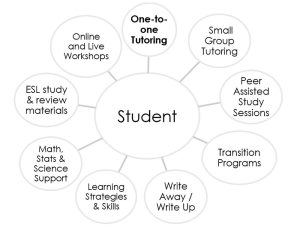 Tutoring is a key element in the wide range of student learning support services provided by the Learning Centres at KPU. When you are finished with your training you will be part of the Tutoring Team.
Notes and Questions: