Book Title:

People Learning and Development

Subtitle: Transforming people and organizations through learning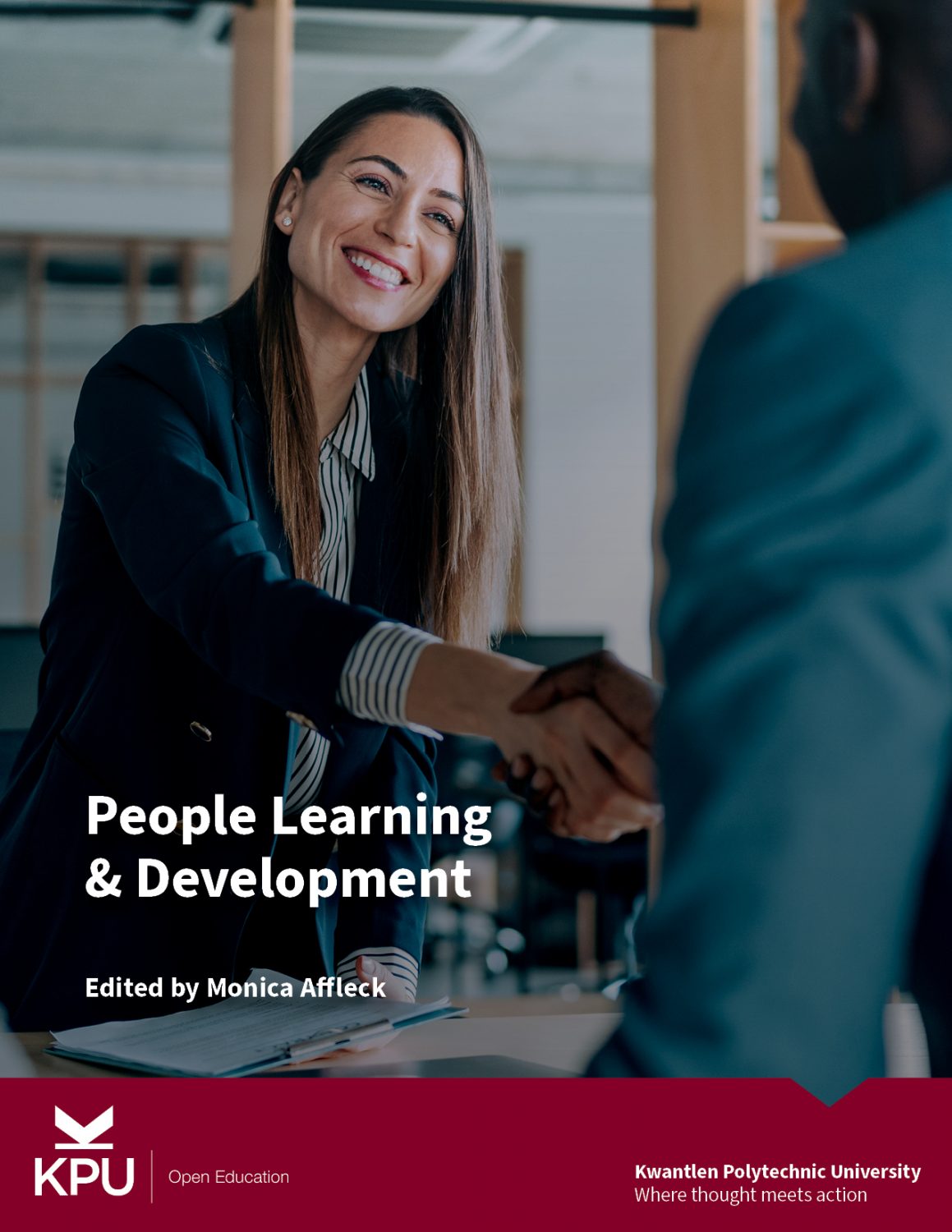 Book Description: This guide serves as an interactive resource for HR/business management students, HR professionals, and anyone involved in employee development at work. Developing a skilled workforce is top of mind for today's organizations. The world as we know it is changing and so are our workplaces. Equipping people with the skills they need to participate in the economy and drive organizational success is critical – now and in the future!
License:
Creative Commons Attribution NonCommercial
Book Information
Book Description
Are you interested in the topic of people learning and development or are tasked to implement learning and training opportunities in your workplace? We invite you to use this resource full of information and tools to help support people and organizations in their learning journey.
Learning happens everywhere, and you will explore the different modes of learning on and off the job. But is a training program actually the right solution to address a performance issue in your organization? Learn how to conduct a needs analysis to help you decide what is in the best interest of the organization and people. Training and learning opportunities have to be properly designed to be effective and deliver the results you expect. Find out how adults learn and what motivates them to develop their skills. Discover how learning supports the performance management process and how to ensure that learning gets transferred into the workplace.
The ultimate goal of training and development is to increase productivity, employee engagement, and to make a positive impact on the organization's bottom line. So, evaluating training and development programs is critical to determine the company's return on investment (ROI). You will find all of this and more in this resource to help you invest in and reap the benefits of talent development in your company.  Remember, this is an interactive resource. We invite you to answer the questions at the end of each chapter to test your knowledge.
License
People Learning and Development by Monica Affleck is licensed under a Creative Commons Attribution-NonCommercial 4.0 International License, except where otherwise noted.