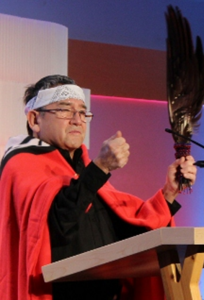 Today, many post-secondary institutions have an Elder in Residence employed by the university. At Kwantlen Polytechnic University, Lekeyten is our Elder in Residence.
To connect with Lekeyten, please contact: IndigenousServices@kpu.ca
Image credit: Kwanlten Polytechnic University. All rights reserved. Image of Lekeyten, Kwantlen Polytechnic University's Elder in Residence in traditional regalia.