1 Background on the Social Issues
The workforce is diverse
Many organizations recognize that the inclusion of perspectives from a diverse workforce can lead to stronger teamwork and better decision making. Therefore, organizations should be motivated to be inclusive because it can lead to business success. Organizations also want to maintain their reputation and engage with a wide range of clients, suppliers, and communities affected by their business. (Organizations also have diversity and inclusion policies because it is a legal requirement to protect the human rights of all employees in Canada.)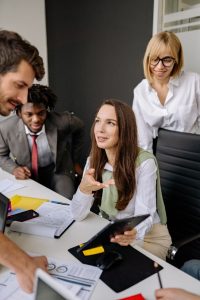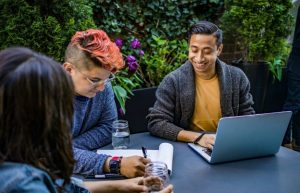 Diverse workplaces must be safe for everyone
Approximately 13% of Canadians identify as LGBTQ2+, and 4.9% identify as Indigenous. Many identify as both. For youth, the percentage of those who identify as LGBTQ2+ or are questioning their identity, the number can be as high as 24%.
Indigenous people, people of colour and members of the LGBTQ2+ group say they should feel safe and protected at work and have input and influence on projects at all levels.
Are our workplaces emotionally and physically safe for everyone? Gregory John, a gay Indigenous man, says that in order to have real collaboration at work, we have to ensure everyone's safety, both individually and as a group. Among other issues, this means ensuring individuals' safety from homophobia, transphobia, sexism, racism, violence, and threats to their reputation and career. For example, LGBTQ2+ employees do not always feel safe with being out and staying out at work. It can be particularly difficult to be out and work in cisgender, heterosexual and still male-dominated Canadian industries such as mining, forestry, energy and even finance.
Indigenous people, other people of colour and LGBTQ2+ people bring multiple perspectives
The essential contributions of Indigenous people, people of colour and LGBT2+ people should be valued.
Although Indigenous people are a fast-growing population and are seeking post-secondary education and starting businesses, organizations need an intentional recruitment process in place to acquire Indigenous talent and to integrate and retain these employees.
"Indigenous talent is going to be a key component in addressing labour shortage concerns", says Gregory John based on his various experiences as an Indigenous relations specialist in energy and engineering, procurement, and construction projects in Western Canada. Many Indigenous communities are deeply involved in developing their natural resources and improving their own communities.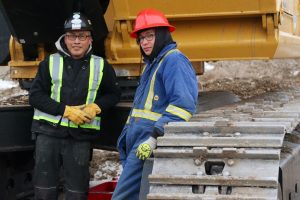 However, it can be difficult for Indigenous people to work in controversial development projects while maintaining trusting partnerships with industries such as mining, forestry and energy. Companies have previously focused on extraction over local impact, emphasized profit over bringing local benefits and given little recognition to Indigenous titles on the land
Gregory John, in his experiences as an Indigenous relations specialist, has learned to communicate effectively. He says,
"Acknowledging being gay and Indigenous has gifted me two additional perspectives to see through. My [multiple] perspectives have been key in allowing me to do this work [Indigenous relations] without making major mistakes. These perspectives have been the foundations for me to mitigate the risk associated with working with diverse communities. Western Society teaches us to make many assumptions before collaborating. With diverse communities, collaboration must start before the first question is asked as there are so many unknowns. Making assumptions here will have serious and potentially project-ending/fatal consequences. Realizing I do not know everything is key. Approaching this work with humility is the key to its success."
Deliberately including LGBTQ2+ people at all levels of a company helps build trust and increases productivity, which improves the collegial atmosphere and morale for everyone. In complex projects, companies need their staff to use different ways of problem solving based on their experiences, perspectives and wisdom. To succeed, companies need their employees to be open to new ideas and to be empathic of each other and the clients they serve. Also, LGBTQ2+ clients and suppliers want to see themselves represented by the staff of companies. Clients, suppliers and communities want to know that companies understand their needs.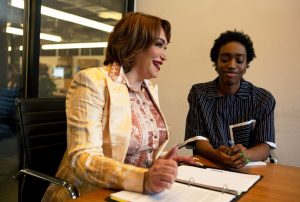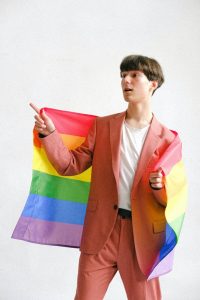 By being vulnerable and empathetic and bringing multiple perspectives (gay, Indigenous, urban) to a situation, Gregory John has learned to successfully navigate controversial conversations at work and in the Indigenous communities he has visited. He says it is important to be completely responsive.
"If we're not able to remove ourselves from our bias and our own perceptions of people, then we're going to come to the wrong answer."
Drucker, Z. (n.d.) Two colleagues, a transgender woman and
a gender non-conforming
person
, laughing in a meeting at work.
[photo].
Gender Spectrum Collection
.
Licensed under Creative Commons. (CC BY-NC-ND 4.0). 
https://genderphotos.vice.com/