7

Supporting Diverse Teams
Preparing students to work in diverse teams is a key stated goal in many courses. We envision preparing students for the workplace with the organizational and relational skills to engage in major projects with coworkers from a variety of backgrounds. In the classroom, however, team projects may be a site of conflict, and the vision of students creating a strong product while engaging in growing intercultural relationships seems lost.
There is no doubt that teamwork is challenging, yet filled with potential rewards. Supporting intercultural learning in teams includes supporting interpersonal and intercultural learning processes.  This includes supporting student interaction in the classroom throughout the course, as well as designing supportive structures for team learning and group projects.
Support Student Interaction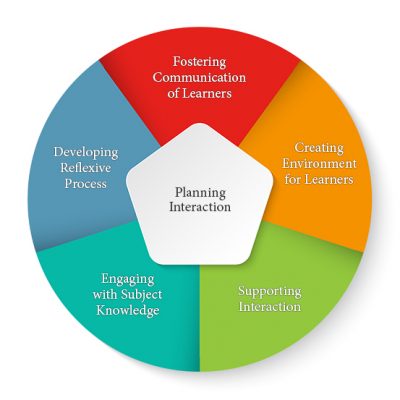 Despite the increasingly intercultural environment in our classrooms, and the reality of future careers in a globalized world, interaction between international and domestic students both inside and outside of the classroom is often weak. (Arkoudis et al., 2013) How can instructors support students in realizing the benefits of an intercultural learning environment?
The Interaction for Learning Framework outlines six key areas where instructors can work to facilitate learning through intercultural relationships. These six foundational practices can be weaved into classroom activities throughout the course, and serve to support student work in intercultural teams.
Planning for interaction:  This is the foundational element of the framework.  Fostering meaningful interaction occurs when interaction is integrated throughout the course design, as the means of achieving key learning outcomes.  The course design also intentionally communicates the benefits of intercultural interaction, the place of peer learning within the course, and the ways in which peer learning will be assessed.
Fostering communication of learners:  This component involves "setting the tone" for interaction and communication in the classroom. Students may be less hesitant to interact in smaller groups inside or outside of the classroom if they participate in structured, low-risk interactive activities.
Supporting interaction: Creating the environment for effective interaction involves setting expectations and guidelines for peer learning and team based activities. This can include providing instruction on how teams work.
Engaging with subject knowledge: This dimension of the framework focuses on actively helping students engage with subject content along with their peers.  As students engage with new concepts, they increase their learning through active application, where they share their own examples and elicit relevant examples from peers.
Developing reflexive process:  As students work on developing intercultural communication skills, there will inevitably be moments of misunderstanding or frustration. By engaging in reflection, students will process their interactions thoughtfully, as well as consider their own role in peer and team learning activities.
Fostering communities of learners:  In addition to the regular classroom community, other structured communities can support students in learning across cultures.  This component of the framework includes encouraging interaction beyond the classroom (Arkoudis et al., 2010).
Processes to Support Intercultural Learning in Team Projects
Identify the Purpose of the Project
At the beginning of the assignment design process, consider how your project connects to your course learning objectives.  Many courses have objectives that include working effectively in a team. Consider the following examples:
Foundations in Design 1100:  Collaborate effectively in team-centered activities.
Biology 1110: Cooperate with group members to complete tasks in a shared learning environment.
As you review your course assignment in light of course learning outcomes, identify:
Is the project's primary purpose to fulfill content learning objectives?
Is the project's primary purpose to fulfill process learning objectives?, or
Does the project include a combination of project and process goals.
An effective team project is also one that requires collaboration — that is, it is larger than an individual student could reasonably complete on their own.  An effective project design also allows students to meaningfully collaborate and share labour (UNSW, 2018). If intercultural collaboration is a key aim, consider how the project design provides opportunities for students to contribute personal and cultural perspectives to the project task (e.g., comparing information from different geographic regions, solving a case study that involves consideration of practice in an intercultural context).
In summary, when designing a team project, ensure that the "why" for engaging in intercultural collaboration is clearly embedded within the project task itself.
Assess Both Process and Product
The course objectives in the section above indicate that the skill of working in teams itself is a learning objective.  This means that the assignment design should include assessment of the students' team work skills, in addition to assessment of the assignment product itself. And, if a skill is assessed in a course, this indicates that it should also be explicitly taught.
If intercultural team learning and group process development are objectives of the project, it is wise to assess both the product and the process the team used to achieve their final result. Nederveen Pieterse et al., (2013) found that a focus on task performance can undermine intercultural communication in teams, while teams that have a strong learning orientation are more likely to engage effectively with one another.  Students often use grades and assessment tools to identify what is important in a course, and will likely respond accordingly.  If interpersonal and intercultural skills are an objective of the assignment and course, it is wise to assess them accordingly.
UNSW Sydney (2018) outline a list of process skills that may be considered in assessment:
ability to arrive at consensus
ability to manage and resolve difficulties
effectiveness in project management (e.g. timelines and milestones)
effectiveness in giving and accepting support and advice
commitment to group processes (e.g. participating, taking responsibility)
extent of contribution (e.g. gathering and researching information, preparing written reflections)
quality of contribution (e.g. applying higher order critical evaluation and problem solving skills).
Process skills can be assessed through self and peer evaluations, reflective journals about team meetings and process, or conferences where you dialogue with the team about their process.
Choose a Strategic Process for Team Formation
Should you allow students to develop their own teams, or assign students to groups? While it may appear that students prefer to select their own teams, and there are some benefits to self-selected teams, such as lower conflict, strategically forming student groups can support effective work and intercultural engagement. Even when in diverse classrooms, domestic and international students may fail to engage in meaningful interaction (Arkoudis et al., 2013). Instructor selected teams can support students in branching out into new intercultural relationships, supporting the goal of student intercultural development. At the same time, strategically organizing teams can facilitate an effective work process.
Harding (2018) suggests grouping students according to their need and motivation. For example, group projects may fail because of unavoidable schedule conflicts, leaving students with multiple commitments feeling isolated from their teammates and the project as a whole. It may also be helpful to find out about student goals for the project, including the time they intend to spend.  This can reduce "social loafing", where some team members participate minimally, while others carry a more significant load.
Surveying students about strengths and abilities can also provide an important source of information for strategic team formation (Reid & Garson, 2017). Ask students to identify 4-5 key strengths.  If the project requires certain technical skills (e.g., PowerPoint creation, video development, website development), survey students about their skills in these areas. This can allow students to co-mentor one another within their team, with students sharing their strengths and skills with teammates (Gunawardena et al., 2018).
In summary, while instructor formed teams can be vital in creating diverse teams with students from different backgrounds working together, they can also support the work process in other important ways.
Include Instruction on Diverse Teams in Class
"What we know… successful teamwork happens when instructors actively provide instruction on the skills and processes for working collaboratively" (Channon et al., 2017).
Teaching on team processes might include processes like:
An initial instructional session on teams and teamwork (e.g., elements of a good team, stages of team life).
Instruction on professional communication in team contexts (e.g., using email professionally, strategies for using digital communication tools).
Structured, in-class activities to help teams develop their relationships and roles within the team (e.g. identifying and sharing strengths with teammates, developing a team charter).
Including specific guidance in the assignment guidelines about how teams can organize their team process at each of the major phases in their work.
Examples of specific class content on team building can be found in Facilitating Student Collaboration in Groups and Teams. 
When intercultural teamwork is the goal, specific instruction in intercultural development can also facilitate effective teamwork. This can include introducing students to the benefits and challenges of work in an intercultural team. For example, diverse teams support divergent thinking and the generation of creative solutions to complex problems, as multiple perspectives enhance thinking (Tadmor et al., 2012). However, culturally diverse teams can also struggle with miscommunication, particularly when students are unaware of the differences in values and practices that can impact how a team works together.  Even in culturally diverse environments, students often require support in developing the cognitive, intrapersonal, and interpersonal abilities that support effective intercultural interaction (King and Baxter Magolda, 2005).
Relevant topics for intercultural development can include:
Discussion of one's own personal and social identities (e.g., Identity Wheel exercises).
Exploration of value dimensions that can inform the ways in which we prefer to act and relate to others (e.g., values about communication, values about leadership, values about time, and values about planning).
An exploration of "small cultures" or team cultures.  This includes the idea that a team can develop its own cultural norms that are negotiated between the team members. This team culture should give attention to incorporating the strengths and values of all team members (not only the dominant culture).
Conflict management strategies.
View an example of an intercultural development lesson here.
Provide Structure for the Teamwork Journey
A healthy teamwork journey for developing teams can include checkpoints along the way; this can be especially important for students in lower-level classes who are just beginning to develop their team skills. Providing smaller, formative assessments along the project process can help identify emerging problems before they derail the project, and help the team to plan and structure their work through the full assignment period. Structural supports for teamwork can include:
Team charters.
Instructor-team "check-ins" for formative assessment early in the project.
Team logs that detail weekly work contributed by each member of the team.
Regular journal entries.
Asking students to submit parts of the completed assignment for formative assessment at regular intervals throughout the project.
Provide Opportunities for Reflection
Working in a diverse team provides opportunities for cognitive, intrapersonal, and interpersonal growth (King and Baxter Magolda, 2005).  Self-reflection is a critical part of both the teamwork and intercultural learning journeys.  At the conclusion of the project, provide opportunities for students to self-reflection on their personal growth and intercultural learning throughout the process.
One possible strategy for connecting the project work with reflective learning is to use a learning tool such as PebblePad for some or all of the assignment components.  Students can complete regular reflections designed using templates in PebblePad, using hyperlinks to connect their reflective comments with the project work itself (completed using Pages or Portfolios in PebblePad, which allow the ability to flexibility combine text and multimedia components to display project content).
Putting it all Together
Reid and Garson (2017) provide an example of a scaffolded group work process that enhanced student satisfaction with group work, and positively shifted student attitudes towards intercultural collaborations.  Their process includes the following steps, which incorporate the principles discussed above.
Provide an initial orientation session where students identify the characteristics of successful teams.
Ask students to identify key strengths and skills that they can contribute to a team project.
Use information about student strengths to strategically form teams (Reid and Garson allowed students to choose one team member, but otherwise strategically formed the groups).
Use a class session to provide instruction on intercultural communication and working in diverse teams.
Ensure that the assignment grading reflects a focus on process (such as peer evaluation and self reflection).
Conclude the assignment by asking students to reflect on their experience working in a diverse team.
Additional Resources to Support Work in Diverse Teams
Attribution Statement: Content in this chapter is adapted from Page, Perera and Gedak (Forthcoming). Facilitating Collaboration in Student Teams. Kwantlen Polytechnic University. https://kpu.pressbooks.pub/groupwork/
References
Arkoudis, S., Yu, X., Baik, C., Borland, H., Chang, S., Lang, I., … Watty, K. (2010). Finding common ground: enhancing interaction between domestic and international students. Australian Teaching and Learning Council. Retrieved from http://www.cshe.unimelb.edu.au/research/projectsites/enhancing_interact.html
Arkoudis, S., Watty, K., Baik, C., Yu, X., Borland, H., Chang, S., Lang, I., Lang, J., & Pearce, A. (2013). Finding common ground: enhancing interaction between domestic and international students in higher education. Teaching in Higher Education, 18(3), 222–235. https://doi.org/10.1080/13562517.2012.719156
Channon, S. B., Davis, R. C., Goode, N. T., & May, S. A. (2017). What makes a 'good group'? Exploring the characteristics and performance of undergraduate student groups. Advances in Health Sciences Education, 22(1), 17–41. https://doi.org/10.1007/s10459-016-9680-y
Gunawardena, C. N., Frechette, C., & Layne, L. (2018). Culturally inclusive instructional design: A framework and guide. Routledge.
Harding, L. M. (2018). Students of a feather "flocked" together: A group assignment method for reducing free-riding and improving group and individual learning outcomes. Journal of Marketing Education, 40(2), 117–127. https://doi.org/10.1177/0273475317708588
King, P. M., & Baxter Magolda, M. B. (2005). A developmental model of intercultural maturity. Journal of College Student Development, 46(6), 571–592. https://doi.org/10.1353/csd.2005.0060
Nederveen Pieterse, A., Van Kippenberg, D., & Van Dierendonck, D. (2013). Cultural diversity and team performance: The role of team member goal orientation. Academy of Management Journal, 56(3), 782–804. Business Source Complete.
Reid, R., & Garson, K. (2017). Rethinking multicultural group work as intercultural learning. Journal of Studies in International Education, 21(3), 195–212. https://doi.org/10.1177/1028315316662981
Tadmor, C. T., Satterstrom, P., Jang, S., & Polzer, J. T. (2012). Beyond individual creativity: The superadditive benefits of multicultural experience for collective creativity in culturally diverse teams. Journal of Cross-Cultural Psychology, 43(3), 384–392. https://doi.org/10.1177/0022022111435259